Have you heard about
ACuppaKim's
MugSwap
?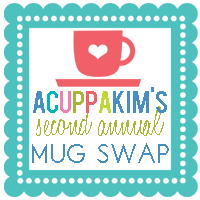 I saw it on
Julie's
Instagram feed, and was able to jump in just in time.
I love coffee cups! No run of the mill, came-with-the-place-setting mugs for me... usually I'm drinking from my
Blue Bell Creamery
mug, or a Mickey Mouse mug, or the Chicago, New York, or Boston Starbucks mugs I've picked up on business trips this year. So this swap was perfect for me... a new special mug, from a new special on-line friend!
I thought and thought about what to get for my partner. In the end I picked up a mug that was a little bit Texas, and whole lot of special. See, this mug was made by a resident at
Brookwood Community
- A God-centered educational, residential, and entrepreneurial community for adults with disabilities.
In addition to the mug, I made the cutest mini grocery bag (pattern from
Michelle Patterns
), and added in a little of my favorite tea (Ashby's Vanilla Spice... from our
local British import store
).
And I've heard from my partner... my mug is on the way to me, and I'm so excited to see what she's picked out for me!!